Honour killing story
Aischa
born 1974
stabbed to death: 20 June 1996
Residence: Gengenbach near Offenburg
Origin: Turkey
Children: unclear
Perpetrator: her husband (25 years old at the time of the crime)
Aischa reportedly fell in love with her future husband during a vacation in Turkey in 1991 and married him three years later, also in Turkey. Since she was 17 and 20 years old respectively at that time, an arranged marriage within the family is obvious. Or her husband is supposed to get a residence permit in Germany through this. Nothing is known about children.

At some point Aischa divorced her husband. On June 20, 1996, he stabbed her to death in her apartment with several knives. After that he flees to Turkey. He presumably keeps himself hidden. Nothing happens for more than 20 years.

By the political turmoil, the perpetrator applies for another visa to Germany in November 2017, which leads the police to track him down. In June 2019, he is arrested in Stuttgart.

In November, the trial begins at the district court in Offenburg. The perpetrator confesses to the crime. The deciding factor is whether it is convicted as murder. If so, the statute of limitations would not have expired even 23 years later. Aischa is not the victim's real name. In the same month, the crime is declared statute-barred. This means that she can no longer be punished and the perpetrator goes free.
What is an honour killing?
An honour killing is a murder in the name of honour. If a brother murders his sister to restore family honour, it is an honour killing. According to activists, the most common reasons for honour killings are as the victim: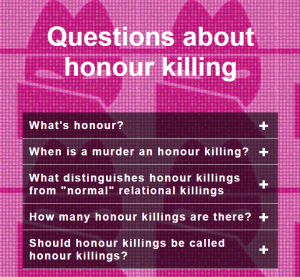 refuses to cooperate in an arranged marriage.

wants to end the relationship.

was the victim of rape or sexual assault.

was accused of having a sexual relationship outside of marriage.
Human rights activists believe that 100,000 honour killings are carried out every year, most of which are not reported to the authorities and some are even deliberately covered up by the authorities themselves, for example because the perpetrators are good friends with local policemen, officials or politicians. Violence against girls and women remains a serious problem in Pakistan, India, Afghanistan, Iraq, Syria, Iran, Serbia and Turkey.
Sources:
There was an article about it on bnn.de, which unfortunately is no longer online.