Honour killing story
Durkadin Tasdelen
born 1977
nearly stabbed to death: 22 October 2008
Residence: Willich / Lower Rhine
Origin: Turkey
Children: two daughters, aged 4 and 9 at the time of the crime.
Perpetrator: her divorced husband Zekai Tasdelen, at the time of the crime 36 years old
Husband Durkadin and Zekai Tasdelen live separately. Because of a threatening situation, he is no longer allowed to approach his wife. Because he does not pay alimony, his account has been seized.

But Zekai does not comply with the court order and waits for his wife at a parking lot. He urges her to withdraw the garnishment of the account and threatens, "Before I pay you money, I'd rather kill you." He then stabs her in front of his four-year-old daughter.

With a rescue helicopter, Durkadin is taken to a special hospital. She is in mortal danger for several days. The two daughters are first placed with neighbors and then placed in a home by the Youth Services Agency.

In a massive manhunt, the husband is caught and sentenced on November 16, 2009 by the district court in Krefeld to 12 years in prison for attempted murder. Durkadin was admitted as a co-prosecutor.

We thank her lawyer Miriam Möller for corrections.
What is an honour killing?
An honour killing is a murder in the name of honour. If a brother murders his sister to restore family honour, it is an honour killing. According to activists, the most common reasons for honour killings are as the victim: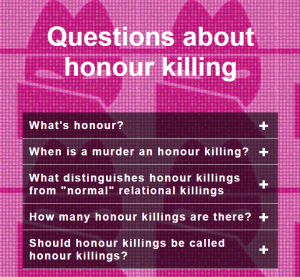 refuses to cooperate in an arranged marriage.

wants to end the relationship.

was the victim of rape or sexual assault.

was accused of having a sexual relationship outside of marriage.
Human rights activists believe that 100,000 honour killings are carried out every year, most of which are not reported to the authorities and some are even deliberately covered up by the authorities themselves, for example because the perpetrators are good friends with local policemen, officials or politicians. Violence against girls and women remains a serious problem in Pakistan, India, Afghanistan, Iraq, Syria, Iran, Serbia and Turkey.
Sources:
There was an article about it at rp-online.de, which unfortunately is no longer online.