Honour killing story
Karima
Born: 1962
stabbed: 6 December 2004
Residence: Wuppertal
Origin: Victim: Morocco, Offender: Iraq
Children: 2 daughters (22 and 24 years old at the time of the crime), 1 son (16 years old)
Perpetrator: her former partner Essam Abd-Al Rassul (39 years old at the time of the crime)
Nothing would be known about this case if the ZDF program Aktenzeichen XY Ungelöst had not reported on it in 2007.

In the 1970s, a Moroccan comes to Germany as a guest worker and takes his wife Karima with him. 3 children are born in Wuppertal: 2 girls, 1 boy.

They split up, Karima works as a cleaning lady and meets a somewhat younger Iraqi, named Essam, in the AWO in Wuppertal. After 2 years they want to get married, but it is noticed that the Iraqi lives under a false name. It is possible that he has already tried to apply for asylum in Germany under another name. By marrying Karima (who has a German passport) he would improve his residence status.

Beginning in 2004, Karima divorces. Essam begins to stalk and threaten her. Karima reports him to the police. Apparently without success: in December, he follows her to a doctor's office. When she leaves the practice, he stabs her in the stairwell.

Then an acquaintance drives him to the Netherlands, where the trail disappears. It is possible that he contacts Karima's ex-husband again and says that he is now at the airport and that there is no need to look for him. But that could be a false trail.
What is an honour killing?
An honour killing is a murder in the name of honour. If a brother murders his sister to restore family honour, it is an honour killing. According to activists, the most common reasons for honour killings are as the victim: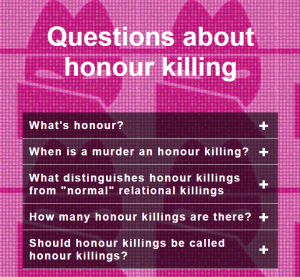 refuses to cooperate in an arranged marriage.

wants to end the relationship.

was the victim of rape or sexual assault.

was accused of having a sexual relationship outside of marriage.
Human rights activists believe that 100,000 honour killings are carried out every year, most of which are not reported to the authorities and some are even deliberately covered up by the authorities themselves, for example because the perpetrators are good friends with local policemen, officials or politicians. Violence against girls and women remains a serious problem in Pakistan, India, Afghanistan, Iraq, Syria, Iran, Serbia and Turkey.
Sources:
There was an article about it at Westdeutsche Zeitung, which unfortunately is no longer online.