Honour killing story
Perihan Yakupoglu
Born: 1959
Strangled and beaten to death: 22 March 1983
Residence: Andernach (Rhineland-Palatinate)
Origin: Turkey
Children: none
Perpetrator: her father Abdullah Yakupoglu (age 51 at the time of the crime)
Abdullah Yakupoglu comes to Germany in 1964 as a laborer and five years later brings his wife and three small daughters. The girls are trained as hairdressers. The youngest is devoted to her father and marries a Turk he has chosen.

The two older sisters - Emine and Perihan - do not want this. In March 1980, the three sisters leave the house in the dead of night. Emine marries her German boyfriend. Perihan, however, refuses to return or marry. On March 22, 1983, the father kills his daughter in a parking lot near Andernach by strangling her and hitting her on the head with a hammer.

Abdullah is sentenced to life imprisonment by the district court in Koblenz in April 1984. Two years later, the case is documented in the ZDF film "Abdullah Yakupoglu: Why did I kill my daughter?". In custody, he falls ill with cancer and is released so that he can spend the last months of his life at home, where he dies.
What is an honour killing?
An honour killing is a murder in the name of honour. If a brother murders his sister to restore family honour, it is an honour killing. According to activists, the most common reasons for honour killings are as the victim: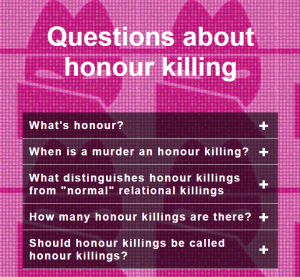 refuses to cooperate in an arranged marriage.

wants to end the relationship.

was the victim of rape or sexual assault.

was accused of having a sexual relationship outside of marriage.
Human rights activists believe that 100,000 honour killings are carried out every year, most of which are not reported to the authorities and some are even deliberately covered up by the authorities themselves, for example because the perpetrators are good friends with local policemen, officials or politicians. Violence against girls and women remains a serious problem in Pakistan, India, Afghanistan, Iraq, Syria, Iran, Serbia and Turkey.