Honour killing story
Pembe
Born: 1966
shot dead: 21 March 2007
Residence: Solingen
Origin: Turkey
Children: one daughter (12 years old at the time of the crime), one son (3 years old)
Perpetrator: her partner Yakub S. (45 years old), living in Germany for 30 years
In March 2007, Yakub S., a 45-year-old Turk, shoots his 41-year-old partner in Solingen. They do not live together because he is married to another woman who is from his Turkish home village.

It is possible that he had married his wife through an arranged marriage, and that he later took the other woman as his second wife. In court, however, Yakub later said that he "did not marry against his own will."

After his marriage, Yakub brings his wife from the Turkish village to Germany. They have two sons and a daughter.

He also has a twelve-year-old daughter and a three-year-old son with his girlfriend. Reportedly, both women knew about each other and agreed to the arrangement. "I loved them both," Yakub said in court.

He was not always so romantic with his partner, with whom he had been in a relationship for twenty years. Especially when she wanted to break up with him. "You can go ahead and dig your grave. You don't deserve to live," is how he allegedly threatened her, according to a witness. Yakub has not been in Germany for a short time, but for thirty years.

The controversial lawyer Rolf Bossi defends Yakub's case before the regional court in Wuppertal. On October 26, 2007, the Turk is sentenced to life imprisonment for the murder of his partner. The judge sees treacherousness, but not vicious motives, because "elements of desperation" are certainly recognizable. His wife, who does not speak a word of German, is present at the verdict, as is attorney Bossi, who, however, leaves the courtroom in protest. As expected, he appealed to the Federal Supreme Court, which, however, rejected the appeal in May 2008.
What is an honour killing?
An honour killing is a murder in the name of honour. If a brother murders his sister to restore family honour, it is an honour killing. According to activists, the most common reasons for honour killings are as the victim: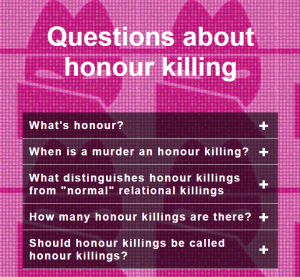 refuses to cooperate in an arranged marriage.

wants to end the relationship.

was the victim of rape or sexual assault.

was accused of having a sexual relationship outside of marriage.
Human rights activists believe that 100,000 honour killings are carried out every year, most of which are not reported to the authorities and some are even deliberately covered up by the authorities themselves, for example because the perpetrators are good friends with local policemen, officials or politicians. Violence against girls and women remains a serious problem in Pakistan, India, Afghanistan, Iraq, Syria, Iran, Serbia and Turkey.
Sources:
There was an article about it at rp-online.de, which unfortunately is no longer online.