Honour killing story
Elif
Born: 1976
shot dead: 12 December 2007
Residence: Löhnberg (near Limburg/Hesse)
Origin: Turkey
Children: two
Perpetrator: her husband, 33 years old at the time of the crime
Elif has been married to her husband for ten (or 13) years. Later, neighbors and the brother of the murdered woman testified that they often quarreled. This was also the case on December 12, 2007:

The unemployed husband goes to the bathroom, loads his gun there and shoots his wife in the children's room in front of his nine-year-old daughter. He flees and meets a neighbor, to whom he confesses the crime. Some sources say it was the mother of the murdered woman.

He also allegedly threatened her with death. The neighbor or mother alerts the police and a manhunt is immediately launched. A few hours later, the perpetrator turns himself in to the police in Wetzlar (possibly under pressure from relatives with whom he tried to find shelter). He confesses to the crime, but claims to have heard voices in his head.

After the crime, the perpetrator speaks German with the police and at the psychiatric examination. It is possible that he spent time in a psychiatric ward. However, later in court he claims that he does not speak German and needs an interpreter. Several psychiatrists are asked how to assess the man's alleged psychosis. There are several reports on their judgment. One says that the perpetrator, after taking fake medication, states that his illness has improved. The case remains unclear. However, it is not entirely uncommon for honor killers to declare psychological problems because they hope to be punished less severely this way.

On ZDF, the brother of the murdered woman, Veli B., testified that domestic violence and death threats had been going on in the marriage for a long time. On January 14, 2009, the district court of Limburg sentences the perpetrator to life imprisonment (without special culpability). The perpetrator appeals, which is rejected by the Federal High Court in September. Elif is not the victim's real name.
What is an honour killing?
An honour killing is a murder in the name of honour. If a brother murders his sister to restore family honour, it is an honour killing. According to activists, the most common reasons for honour killings are as the victim: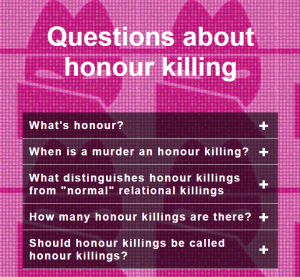 refuses to cooperate in an arranged marriage.

wants to end the relationship.

was the victim of rape or sexual assault.

was accused of having a sexual relationship outside of marriage.
Human rights activists believe that 100,000 honour killings are carried out every year, most of which are not reported to the authorities and some are even deliberately covered up by the authorities themselves, for example because the perpetrators are good friends with local policemen, officials or politicians. Violence against girls and women remains a serious problem in Pakistan, India, Afghanistan, Iraq, Syria, Iran, Serbia and Turkey.
Sources:
There was an article about it at giessener-allgemeine.de, which unfortunately is no longer online.