Honour killing story
Filiz E.
born: 1976
shot dead: 13 November 2009
Residence: Wülfrath (near Wuppertal)
Origin: Turkey
Children: 3 sons (at the time of the crime 8, 11, 14 years old)
Perpetrator: her husband Sedat (42 years old)
Filiz came to Germany at the age of 16, presumably as an import bride. With her husband Sedat she has three children. In the Islamic community, marriage is known to be problematic.

Filiz divorces. But Sedat does not want to accept the divorce and threatens her with a bloodbath. Perhaps she does not take the threat seriously.

On November 13, 2009, the mechanic ambushes his wife. She has several cleaning jobs and comes from a kindergarten that day. As a precaution, Sedat runs the air out of the tires of her small car so that she cannot escape. He shoots his wife twice and then himself. Both are instantly dead.

The three sons are housed with relatives.

In honor killings, a subsequent suicide is unusual.
What is an honour killing?
An honour killing is a murder in the name of honour. If a brother murders his sister to restore family honour, it is an honour killing. According to activists, the most common reasons for honour killings are as the victim: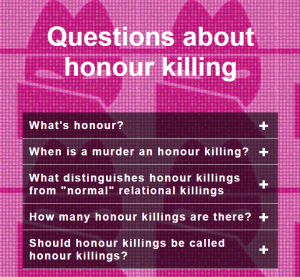 refuses to cooperate in an arranged marriage.

wants to end the relationship.

was the victim of rape or sexual assault.

was accused of having a sexual relationship outside of marriage.
Human rights activists believe that 100,000 honour killings are carried out every year, most of which are not reported to the authorities and some are even deliberately covered up by the authorities themselves, for example because the perpetrators are good friends with local policemen, officials or politicians. Violence against girls and women remains a serious problem in Pakistan, India, Afghanistan, Iraq, Syria, Iran, Serbia and Turkey.
Sources:
There was an article about it at rp-online.de, which unfortunately is no longer online.