Honour killing story
Sevgi I.
born 1982
stabbed to death: 16 November 2006
Residence: Wiesbaden
Origin: Turkey
Children: a 4-year-old daughter at the time of the crime
Perpetrator: her divorced husband Tuncay I. (27 years old), had been living in Germany for several years
Sevgi was born in Germany and raised in Wiesbaden. She is graduating from the Realschule and is doing an internship as a legal assistant. She is believed to have been married off to a relative on New Year's Eve 2000/2001 during a vacation in Turkey. Tuncay comes to Germany, but never learns the language. Instead - it is said - he gambles and drinks. Their daughter is born in 2002.

Soon Sevgi wants a divorce. Her husband is violent and quickly comes to the attention of the police. In the fall of 2006, an approach ban follows so that Tuncay is no longer allowed near her and their daughter.

He does not comply and must remain in custody for three days. Sevgi's statement says she is afraid he will kill her. She is given the right of residence for her daughter.

In November 2006 (i.e., while she is still under a ban on approach), Sevgi sits with her daughter in an office, possibly her new boyfriend's. Tuncay kicks in the glass door from outside and kills his wife with 10, 16 or 18 knife stabs in front of their four-year-old daughter. As the mother bleeds to death, he takes the girl and flees. But Sevgi is still able to give a name of the perpetrator to the rushed police. Moreover, there are witnesses who have observed him.

Tuncay flees to the restaurant where he works as a cook. There he leaves his daughter behind. Later he is arrested in a café in Mainz. At first he denies the crime. According to other reports, he refuses to testify. At one point he confesses, but claims not to remember the crime. Yet in an interrogation he says, "I am not happy about it, but I am not sad either. It caused me a lot of problems." Even during the trial, he shows no remorse. While still in custody, he writes a letter to his father, saying that his wife received the punishment she deserved.

Tuncay is sentenced in July 2007 to fourteen years in prison for manslaughter. The defense appeals to the Federal Supreme Court. The daughter is placed in a foster home. When her father is released, she will be 18 years old (assuming he serves the full sentence). If she does not live by his values by then, she may also be in danger.
What is an honour killing?
An honour killing is a murder in the name of honour. If a brother murders his sister to restore family honour, it is an honour killing. According to activists, the most common reasons for honour killings are as the victim: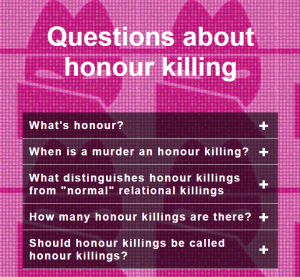 refuses to cooperate in an arranged marriage.

wants to end the relationship.

was the victim of rape or sexual assault.

was accused of having a sexual relationship outside of marriage.
Human rights activists believe that 100,000 honour killings are carried out every year, most of which are not reported to the authorities and some are even deliberately covered up by the authorities themselves, for example because the perpetrators are good friends with local policemen, officials or politicians. Violence against girls and women remains a serious problem in Pakistan, India, Afghanistan, Iraq, Syria, Iran, Serbia and Turkey.
Sources:
The Wiesbadener Kurier and the FAZ reported on the case. Unfortunately, the texts are no longer online.